Please click here if you are unable to view this page.
POSTPONED - General Principles of Law in International Dispute Resolution: the Practitioner and Academic Perspective

Mr Charles T. Kotuby Jr.

Partner

Jones Day Washington

SYNOPSIS

General principles of law" are in integral part of international law and—increasingly--the settlement of international disputes. They are the marriage of universal principles of private, commercial and administrative law; elevated onto the international plane, they serve to legitimatize the international arbitral process in the eyes of stakeholders and participants in the process. This is especially true whenever public interests are involved.

By their inclusion in the 1920 Statute of the PCIJ as one of the primary sources of international law, these principles have long been relegated to only inter-state disputes. That began to change near the turn of the twentieth century, when the creation of ad hoc claims commissions to adjudicate private claims under international law indicated the need for a more comprehensive system of international law. The architects of this system needed a link between the developed systems of municipal law and the inchoate system of international justice, but one that was stabilized on principles to which no one could object. Pacta sunt servanda, estoppel, res judicata and fraus omnia corrumpit are among the concrete legal principles obtaining in virtually all legal systems that increasingly find expression in the work of international arbitration tribunals. In commercial cases they can provide a corrective choice of applicable law when the dispute is an transnational one. In investment cases they serve as substantive guarantees for the rights of private parties vis-à-vis foreign States, be it by guiding the application of governing law, interpreting international contracts free of local idiosyncrasies, or defining what constitutes "fair and equitable" for foreign investments. When those principles concern the State's role in administering justice to foreigners, they form a basic concept of "international due process" which all states must aspire to provide, and thereby provide the standard whereby municipal judgments achieve international circulation. When properly developed, embraced and applied, these principles do not supplant municipal law, but apply its fundamental core for the betterment of the regime of international dispute resolution.

The panel for this program will include esteemed local practitioners and specialists in international commercial and investment arbitration, who will discuss how these principles can and have been applied before international tribunals. The panel will be moderated by Charles T. Kotuby Jr., Partner at Jones Day in Washington DC and the co-author of the most recent book on this topic—General Principles of Law and International Due Process: Principles and Norms Applicable to Transnational Disputes (Oxford: 2017).





ABOUT THE SPEAKER

Charles Kotuby is an international law counsel who represents multinational corporations, sovereign states, and state-owned entities in complex international disputes. He has acted in international arbitrations and litigations across a range of sectors and industries, including oil & gas, aviation, mining, and other extractive projects.

His practice is focused on investment arbitration and litigation involving foreign sovereigns, and on novel issues of public and private international law. He has appeared as counsel in international matters before the U.S. Supreme Court, the Court of Justice of the European Union, ICSID and UNCITRAL tribunals. Charles has been counsel to Chevron in its multibillion dollar dispute in Ecuador, and is currently counsel to a number of Canadian mining clients with treaty-based arbitral claims against the Republic of Kazakhstan. He also regularly advises clients on treaty rights, investment protections, international border, and maritime issues.

According to Judge Stephen Schwebel, arbitrator and former President of the International Court of Justice, Charles is one of the world's "leading international counsel and advocates." (Foreword to Kotuby & Sobota, General Principles of Law and International Due Process (Oxford 2017)).

Charles is a Fellow of the Chartered Institute of Arbitrators, is on the arbitrator panels of institutions worldwide, and is a frequent speaker and author on matters of international law and arbitration. He is an Adjunct Professor of Law at American University's Washington College of Law and Washington & Lee University School of Law, where he teaches courses in global disputes.

Mahdev Mohan
Assistant Professor of Law, SMU;
Consultant, Providence Law Asia.

Partner

Jones Day




FEES

a. Seminar fee
Seminar fee of S$115* (inclusive of GST) applies.


b. Group discount fee

Group discount fee of S$100* (inclusive of GST) applies if there are at least 10 participants from the same organisation

or at least 3 participants from the same SIDRA Corporate Partner.

c. SMU Alumni fee (for LLB / JD / LLM graduates)
Seminar fee of S$100* (inclusive of GST) applies for SMU LLB / JD / LLM Alumni.

*Please note that there will be no refund of any fees paid should the participant cancel the registration/ fail to attend the seminar. However, registration is transferable. Notice of any change in participant should be sent to the Academy via email:

smulawacademy@smu.edu.sg

, by 11 May 2018.

SMU School of Law reserves the right to cancel or postpone any event. In such case, we will arrange for the refund of seminar fees paid.

Registration closes on 11 May 2018, subject to availability of seats.

DATE

18 May 2018 (Friday)

TIME

3:30 PM - 5:00 PM


(Registration starts at 3:15 PM)

VENUE

Singapore Management University
School of Law
Level 1, David Marshall Moot Court
55 Armenian Street
Singapore 179943

PUBLIC CPD POINTS

1.5 points (provided SILE's CPD Attendance Policy is complied with)

PRACTICE AREA

Alternative Dispute Resolution

TRAINING LEVEL

General

LOCATION MAP

Click HERE for map

PROGRAMME

3:15 PM
Registration
3:30 PM
Seminar commence
4:15 PM
Panel Discussion
5:00 PM
End of Event

CO-SPONSORS



ABOUT THE SMU LAW ACADEMY
The SMU Law Academy (previously known as CLE) has an established track record of providing the legal profession with high quality seminars and other opportunities to remain fully informed about contemporary legal developments in Singapore and beyond. Its carefully curated listing of seminars is developed with the profession's multi-faceted needs in mind and meets the requirements of the CPD scheme. The Academy also administers the Auditing Scheme which enables members of the legal profession to consolidate and upgrade their understanding of the law by auditing courses in the School's LL.B., J.D. and LL.M. programmes. For an overview of upcoming SMU Law Academy events, please click here.

ABOUT SIDRA
The Singapore International Dispute Resolution Academy (SIDRA) is Asia's global thought leader for learning and research in negotiation and dispute resolution. SIDRA was launched on 17 March 2016 at the 2016 Global Pound Conference by the Honourable the Chief Justice Sundaresh Menon. SIDRA leads change in the culture of deal-making and dispute resolution and empowers people to create value. SIDRA is a non-profit organisation supported by the Ministry of Law. It is a subsidiary of the Singapore Academy of Law and the Singapore Mediation Centre and is based at the Singapore Management University, School of Law.

ABOUT THE SILE'S CONTINUING PROFESSIONAL DEVELOPMENT SCHEME
This programme is an Accredited CPD Activity under the SILE's CPD Scheme. Participants who wish to obtain CPD Points are reminded that they must comply strictly with the Attendance Policy set out in the CPD Guidelines. For this activity, this includes signing in on arrival and signing out at the conclusion of the activity in the manner required by the organiser, and not being absent from the entire activity for more than 15 minutes. Participants who do not comply with the Attendance Policy will not be able to obtain CPD Points for attending the activity. Please refer to http://www.silecpdcentre.sg for more information.

Jointly-organized by: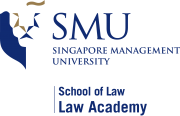 To subscribe/ unsubscribe from The SMU Law Academy mailing list, please click here.